Today T-Mobile held its latest "Un-carrier" event, where it unveiled two new plans along with a new way for people to switch to its network. The plans are called Go5G and Go5G Plus, the latter being the first plan to guarantee new and existing customers always get the same device deals, and are upgrade-ready every two years.
This is, the carrier says, a response to its competitors moving to three-year contracts, and a survey revealing that nearly 70% of people would prefer to upgrade their phones every two years, not three. T-Mobile also claims AT&T and Verizon together have raised prices nine times in the last year.
Go5G Plus customers can get "a free 5G phone (up to $830) with eligible trade-in, and they can trade in an old phone from up to six years ago. This plan is billed as "a supercharged version of Magenta MAX". It has everything in that plan, plus 50GB of hotspot data each month, 15GB of high-speed data in Mexico and Canada every month, and, for a limited time, you can get a third line for free – you still pay for two lines, but have three.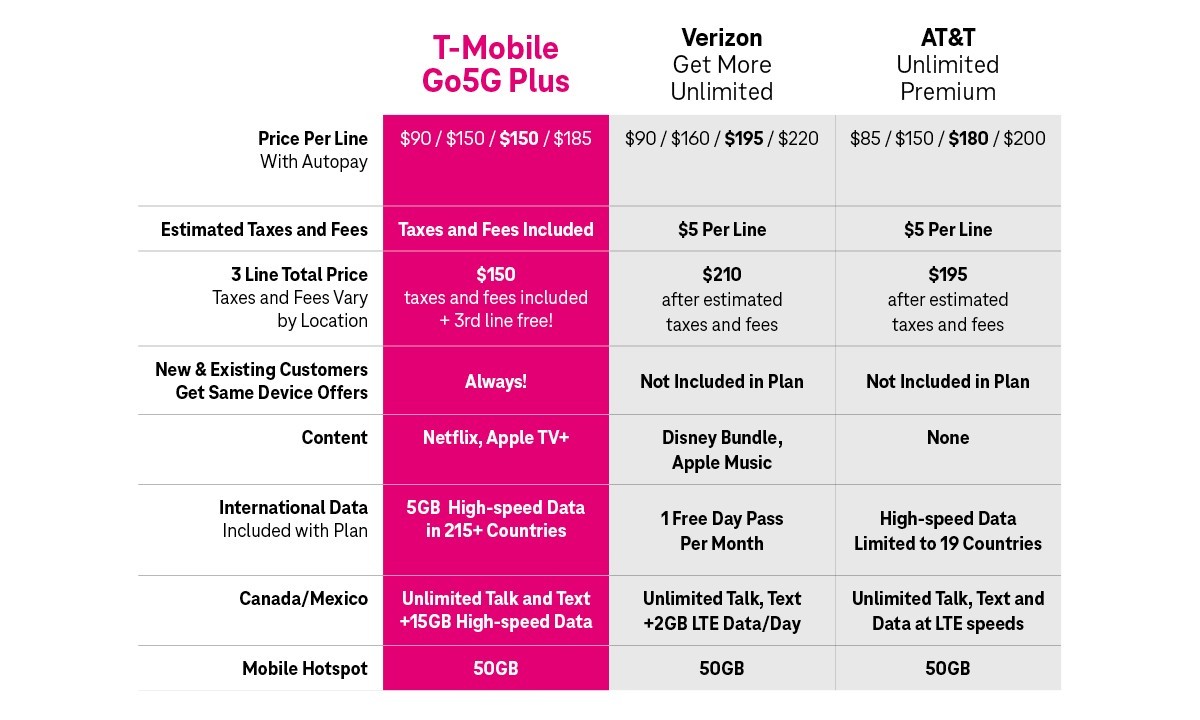 The first line is $90, two lines are $150, three are also $150, and four are $185 per month, with taxes and fees included. You also get Netflix and Apple TV+, as well as 5GB of high-speed data in 215+ countries.
Go5G, on the other hand, is $75 for the first line, an additional $55 for the second line, and an extra $25 for each of the third and fourth lines, again with taxes and fees included.
You get 100GB of premium data before your speed is reduced (whereas with the Plus version it's unlimited premium data), only 15GB of high-speed hotspot data, and only 10GB of high-speed data in Mexico and Canada. Internationally, the 5GB of high-speed data is only valid in 11 European countries. You also get 4 full-flight streaming sessions a year, then 1 hour streaming and unlimited in-flight texting where available.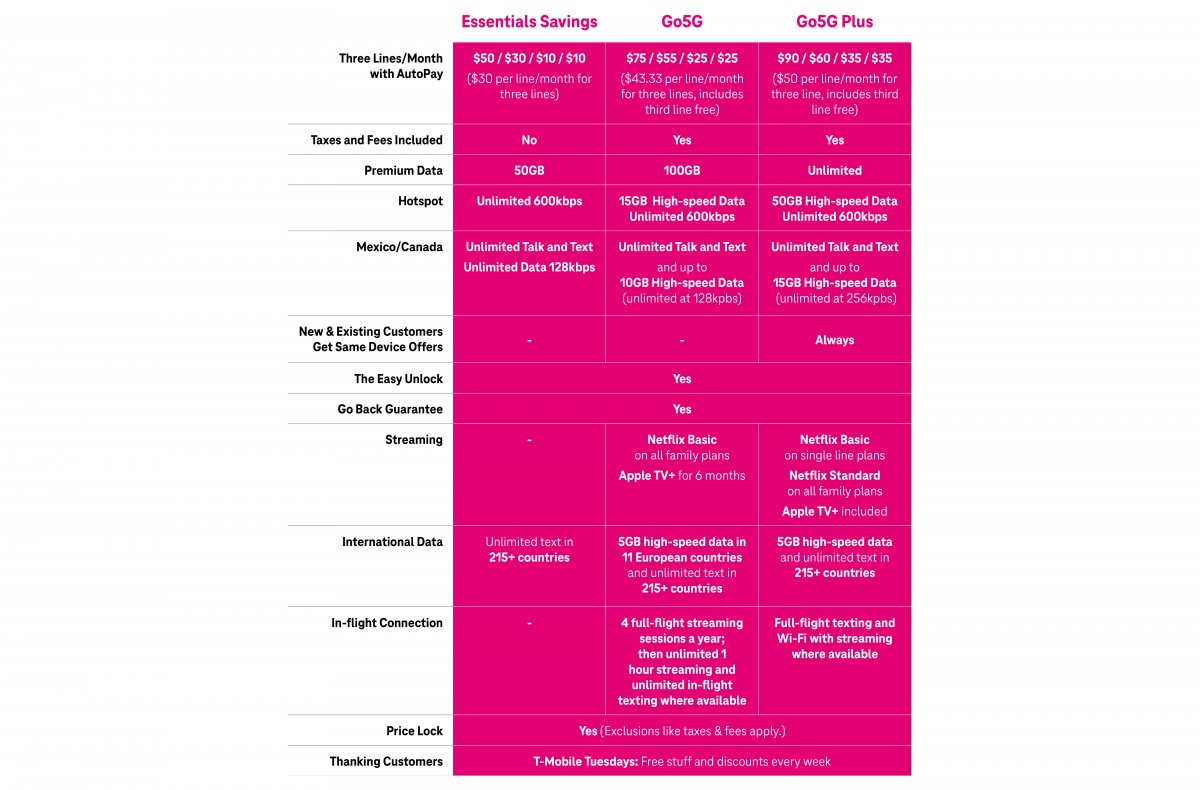 With The Easy Unlock, T-Mobile is helping AT&T customers "make their great escape", and switch to the magenta carrier. It will pay off your AT&T phone (up to $650 via prepaid Mastercard), and will also allow you to trade-in your eligible device, locked by AT&T, in order to get a brand new smartphone from T-Mobile.
If for some reason you don't like T-Mobile, you can cut ties with it without any hard feelings if you decide to leave within 30 days – it will even give you $50 back per voice line to help cover the cost of your bill.
All of these become available on April 23, which is also when the Essentials Savings plan gets cheaper too. It's going to be $50 for the first line, $30 for the second, and $10 for the third and fourth. This gives you 50GB of premium data each month, unlimited low-speed hotspot, unlimited talk, text, and 128kbps data in Canada and Mexico, and unlimited text in 215+ countries.
Source