Apple introduced the original iPhone in January 2007 and a few months later it leveraged the new all-touch interface to add a new branch to the iPod family tree. While the iPod touch was outsold by the iPhone, it was still highly successful – Apple celebrated 100 million units sold in mind 2013.
Naturally, Android makers wanted to have their own iPod touch. In 2009 the Archos 5 Internet Tablet hit the scene. It was billed as a "PMP", Portable Media Player, and it may have been the first of its kind to run Android (v1.6 Donut). It could play MP3, AAC, FLAC as well as various video formats and had a large for the time 4.8" display.
At IFA 2010 Samsung introduced the Galaxy Player 50 and said it was the first of its kind, though that may require some asterisks. Anyway, the 8GB model cost £150, £40 less than an 8GB iPod touch at the time. There was a 16GB model too, but a cheaper way to get more storage was with microSD (cards up to 32GB were supported).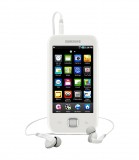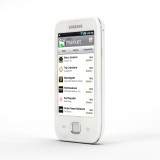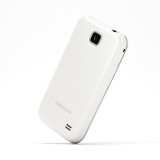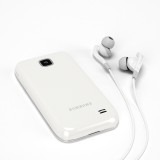 Galaxy Player 50
It ran Android 2.1 Eclair and had full access to the Android Marketplace, so you could install apps and games. There was no 3G connectivity, of course, though it did have Wi-Fi for those apps that needed Internet connectivity.
With a 3.2" WVGA display this was also a video player with built-in DivX support. For example, the browser supported Flash, so you could browse the entire web at home or at a cafe.
A few months later several more models appeared: Galaxy Player 3.6, 4.0, 4.0, 5.0. These were alternatively known as "Galaxy S WiFi" followed by the same numbers (which indicated display size).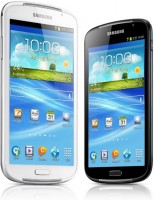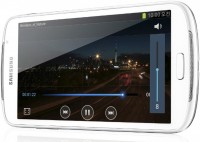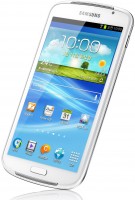 The Samsung Galaxy Player 5.8 was huge
The (almost) last attempt was the Galaxy Player 5.8 from 2012. With its 5.8" 540 x 960px display it larger than a Galaxy Note II, though its hardware was more like the original Note (dual-core Cortex-A9 CPU at 1.2GHz, 1GB of RAM).
Sony is the company that invented the tiny personal audio players with the first Walkman and it did not want to be outdone. The Sony Walkman Z100 arrived in January of 2012 – the $250 player took design cues from the Xperia Arc series and featured a 4.3" WVGA LCD.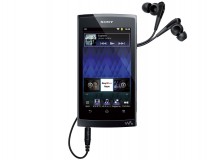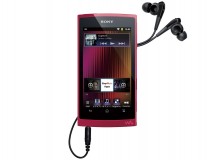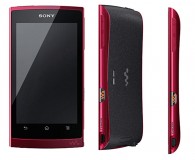 Sony Walkman Z-1000
There were 8, 16, 32 and 64GB versions (that last one was a Japan exclusive) and ran Android 2.3 Gingerbread on a Tegra 2 with a 1GHz dual-core CPU and 512MB of RAM. It had a microHDMI port as well as a proprietary connector for docks, it could also stream video to your TV over DLNA. It had familiar Sony tech like S-Master MX, DSEE and so on.
If you'll allow us a quick detour, we want to mention a few music streaming services. It's no longer with us, but Sony's Music Unlimited wanted to rival the likes of Spotify and iTunes. For $4 a month you could listen to Internet radio, $10/month gave you on-demand playback.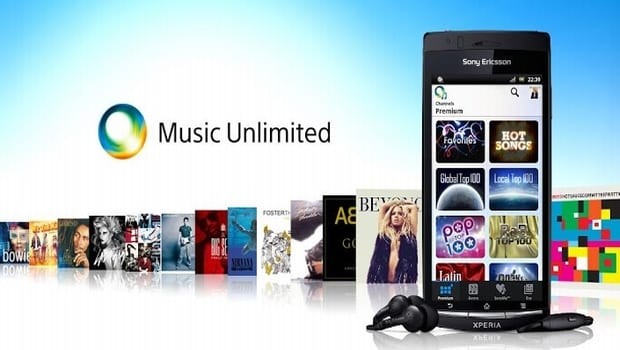 The service could also sync your personal music library from your PC to the cloud and then down to your Walkman Z (or Xperia phone). This included Offline Playback since mobile data was still quite expensive back then. Music Unlimited was shut down in 2017.
Samsung had its own streaming service for a short while, Milk Music was introduced in early 2015 (powered by Slacker Radio) with ad-supported and ad-free subscriptions. Samsung started shutting down the service a year later and it was completely gone in 2017.
Back to Android MP3 players. Sony may have given up on being a streaming music company, but it did not give up on the players. This January it unveiled the NW-A300 and NW-ZX700.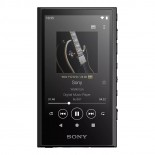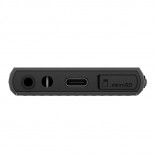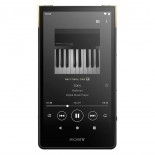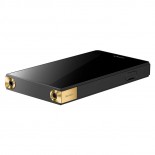 Sony Walkman NW-A300 and NW-ZX700
The latter is no joke, it costs JPY 104,500 in Japan (€720) and has features like support for 96kHz 24-bit FLACs and a 4.4mm balanced output for headphones. The A300 is a bit more reasonable €400 but still clearly in audiophile-only territory.
Of course, these days most people use wireless headphones and if they want to listen to music on the go – but don't want to bring their smartphone along – they can play music on their smartwatches.
Do you think there is still a market for Android-powered portable media players or is this something that is extremely niche (e.g. people who know what a 4.4mm balanced output is)?