Back in the good old days, Google used to release monthly stats regarding Android version distribution, through a publicly accessible website. These days, the company is being far less transparent, possibly due to how ruthlessly its mobile OS has been mocked by Apple with regard to the glacial pace at which devices get to run the newest versions.
We don't know for sure that all the mentions during Apple events had anything to do with it, by the way, we're just wildly speculating, but the situation right now is that Google is making some numbers available through Android Studio, but very sporadically. There's a new update today, and the previous one was in January.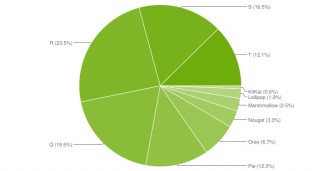 Android version market share: January (left) vs. now (right)
Compared to January, Android 13's market share among Android devices has more than doubled, from 5% to 12.1%. That's great performance if you look at it without the context – which is that Android 13 has been out for almost exactly eight months now.
And yet. Android 12 first made it to the chart almost a year after its release and at that point it only had 13.3% of the pie, so at this rate its successor is clearly destined to overtake it. We've seen Samsung improve its update game massively last year, but Chinese companies like Oppo, OnePlus, and Realme were pretty quick too.
The odd thing about today's chart is that the most used version is still Android 11 from 2020, which leads the pack, about two and a half years after its release, with 23.5% market share. That's ahead of Android 12 and Android 12L's combined 16.5% share.
Source