Last week's poll shows that Oppo's Find X6 series could sell well on the global market, if indeed Oppo would sell them (its future in Europe past 2023 looks uncertain). Both models received strong support, despite their differences.
Or maybe because of their similarities instead – the cheaper Oppo Find X6 uses the exact same periscope module as the Pro. While the rest of its hardware isn't as impressive as the Pro, the vanilla model is also 25% cheaper than its sibling, so it's an alluring option for those who can't manage the full price tag of the Pro.
The Oppo Find X6 Pro enters the 1" arena with Hasselblad at its back. We're working on a detailed review, so soon we will share our findings from the camera tests.
This isn't the first phone with a 1" sensor. In fact, the Sony IMX989 is quickly gaining tracktion. Where Oppo tries to stand out is with the "three main cameras" approach that gives equal amounts of love to the wide, ultrawide and tele modules.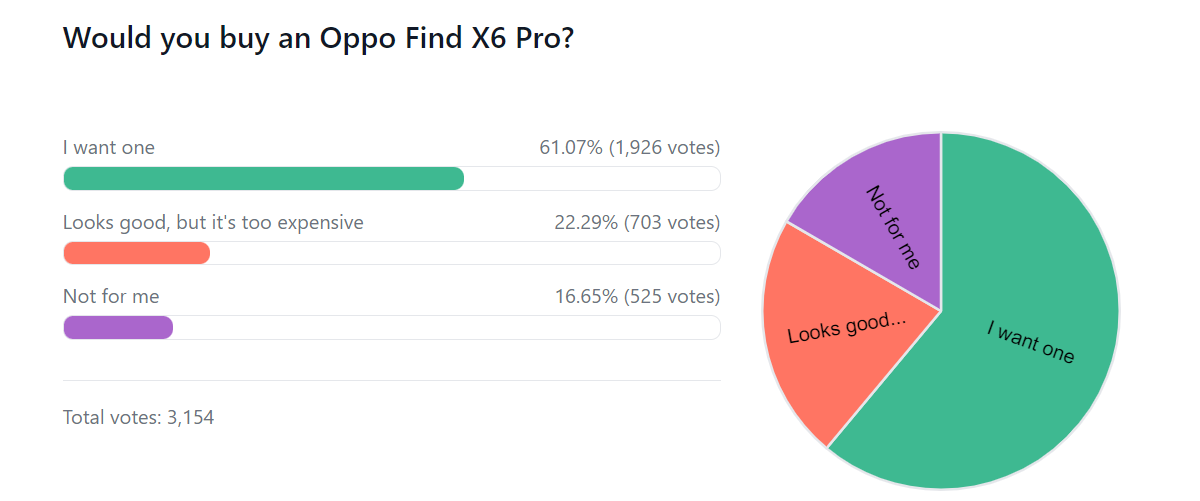 As expected, there are some concerns about the pricing of the Find X6 Pro – we don't know how much it might cost outside of China, but it and the rest of the 1" gang are as pricey as non-foldable phones get. There is less concern about the cost of the vanilla Find X6, of course, which is part of its appeal.
We'll be finishing with our review of the X6 Pro soon. After that there will be little to do but wait and see whether Oppo expands the Find X6 series availability to more markets.